---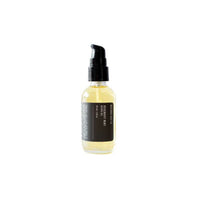 A luxurious blend of carrier oils and pure essential oils provide intense moisture and conditioning.
2 oz glass bottle. Scent: Sandalwood.
Handmade by Jae Benjamin of Benjamin Soap Co. 
From Benjamin Soap Co.
Our process is focused on appreciating the simplicity and beauty in nature. Each product from our cold process soaps to our hand poured soy candles are handcrafted in small batches. We use plant based oils, 100% pure soy wax, which is sourced from American grown soy beans, ethically sourced & sustainably grown ingredients. We use minimal packaging that is recyclable and biodegradable. We pride ourselves on sourcing locally grown organic herbs & vegetable powders, using locally harvested & filtered raw honey, olive oil & beeswax. We believe that skincare should be transparent in its creation and tell a story.