---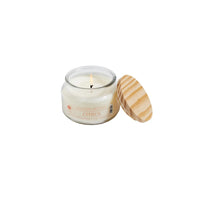 Sale
This Citrus scent incorporates the very best citrus essential oils. Smelling so fresh and clean, it's perfect for a kitchen!
Made in the USA.
8.5 oz. with wood lid.  Burn time approximately 40+ hours. 
5 oz. tin.  Burn time approximately 25 hours. 
From Hillhouse Naturals: Made on our family farm, where we work side by side with a wonderful team of women who do everything from pouring candles to packing up orders. Whenever possible, we use local and natural ingredients - and when we say local, we really mean local...even the soy for the clean burning soy wax candles we are known for comes straight from the farm.