---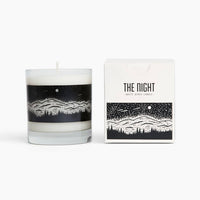 Bring the outdoors in with this hand-poured, all-natural soy candles, made in small batches in Denver, Colorado by the Moore Collection! 
Screen printed rocks glass filled with an all natural soy candle with the scent of White Birch. The White Birch scent has notes of eucalyptus, mint, Cyprus, pine and tonka bean.
This candle has an approximate burn time of 60 hours. Packaged in a durable box to keep the candle pristine and easily giftable. 
Every component of this candle and package is made in the USA and is hand poured in Denver.